Working at the Credit Counselling Society
It's more than just a Great Place to Work. We make a huge difference in people's lives every day.
Why Choose a Career at the Credit Counselling Society

One of the Best Workplaces & Employers in Canada
Here at the Credit Counselling Society, it is more than just a job. We value the ability to help people and make a real difference in people's lives by providing them the help they need to get back on track financially. We offer a welcoming, respectful and caring culture for each and every team member as we work towards our collective vision of inspiring people to build a better future by guiding them through life's financial challenges.
Here are some reasons why you might want to join us!
You love helping people and want to make a difference in people's lives.
You want to be a part of a team that values the unique skills and experiences of each of its members.
You're looking for a workplace culture that embodies camaraderie, friendship and teamwork, and an environment that fosters collaboration and connection.
You have a hunger for continuous personal and professional growth and a thirst for knowledge.
You value integrity, compassion and respect in everything you do!
Do any of these reasons resonate with you? If so, we would love to hear from you.
The Credit Counselling Society is a non-profit service and leader in the credit counselling industry in Canada. Each year we help thousands of individuals and families find solutions to their financial difficulties through personal money management education, unbiased counselling, and debt repayment alternatives.
Canada's Top Workplaces
The Credit Counselling Society has been named one of Canada's Top Workplaces by the Great Places to Work Institute on five seperate occasions. We've also been recognized as a Best Workplace for Women, a Best Workplace for Giving Back, a Best Workplace for Inclusion, a Best Workplace for Millennials, and Best Workplace for Fairness.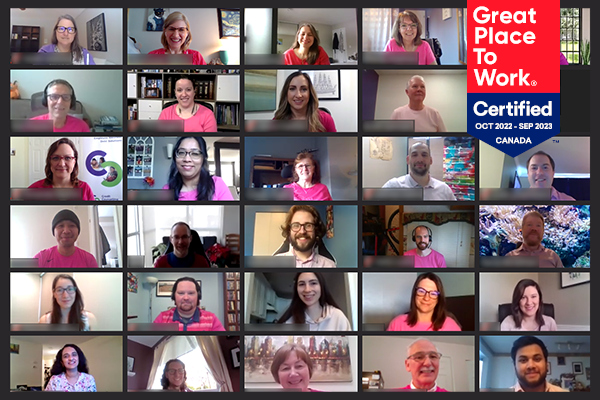 Health Spending Account
Everyone's needs are different. We offer a generous HSA to offer you the choice to decide the types of health-related expenses that are most relevant to you and/or your family!

Regular Annual Salary Reviews
All employees at CCS are eligible for an annual review of their salary to reflect their performance over the past year.

Work Life Balance
We understand the importance of work-life balance and to support that CCS offers a 35-hour work week, 3 weeks vacation to start, CCS Days and Half-Day Fridays before long weekends.

Learning & Development
We strongly support ongoing learning and development and offer a generous educational reimbursement budget, internal workshops, and an Employee Development Program.

Career Growth
We offer opportunities to participate in special work-related projects, committees, and mentorship programs for those who are interested in taking their careers to the next level.

RRSP Matching
CCS is committed to financial well-being. To support our team in achieving this goal, we offer an RRSP matching program, an annual bonus (contingent on client satisfaction), and a monetary gift each year on CCS' birthday!
Culture of Collaboration
We value what our team members have to say and offer opportunities for continuous feedback through surveys and solutions groups to gather ideas and suggestions for how we can improve as a team.

CCS Community
Is there something that you're passionate about outside of work? We encourage employee-led initiatives/events and offer virtual social groups for people who have similar interests and hobbies!
Interested qualified candidates should apply for a position posted above by clicking on it and then clicking on the "Apply for this job" button beside or below the job description. Please note: only those shortlisted for an interview will be contacted.
We are an equal opportunity employer and encourage applications from members of groups that have been marginalized on the grounds included in the Human Rights Codes of Canada and the provinces we serve, including: status as a First Nation, Métis, Inuit, or Indigenous person, race, country of origin, disability, sex, sexual orientation, gender identity or expression, political belief, religion, marital or family status, age, and/or social standing. Applications from all qualified individuals are welcome, and successful candidates must be eligible to work in Canada.
Please click here to view our Commitment to Equity, Diversity and Inclusion.
What Working at the Credit Counselling Society is Like
If you'd like some insight into what it's like working at the Credit Counselling Society (CCS), here's what some of our team members from various departments have shared.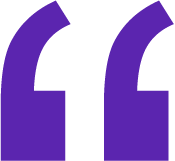 It is intensely rewarding
What I love most about my job, other than the work life balance, is that we get to truly help clients in meeting their financial needs. We give genuine solutions and information that can change their lives, and it is intensely rewarding when you see somebody that is in a vulnerable position get that strength and that encouragement and a solid plan to meet their goals.
– Mary C., Credit Counsellor
What I like about CCS:
Care about their employees and clients
Focus on doing the right thing
Allow the team to grow professionally and promote within
Fair compensation
Great managers and senior leadership
Having come from a diverse work background from both the financial and social services sectors, I was used to a workplace that had an intense amount of pressure for results, with little support, acknowledgement or concern for me as a person. Coming from that type of environment to CCS was a bit of culture shock – but in a good way! While CCS is still passionate and focused on their goals and mission, as an organization, they do it in a way that helps and promotes the wellbeing of their clients while also respecting and nurturing the talent of their team, both as professionals as well as individuals.
I love what I do every day and on top of that I have the added benefit of helping people! Being able to answer people's questions, teach them about their finances and help them with their concerns makes me feel that what I do has value and is important and makes a difference.
I am grateful to be a part of the CCS team!
– Amanda M., Financial Educator
During my time with Credit Counselling Society I have had the opportunity to help thousands of Canadians in difficult situations find hope and move forward in their lives with optimism and to become debt-free. I have always felt well-treated and completely respected here. I would highly recommend anyone who has the desire to help people in a meaningful way to consider joining this amazing team.
– Luke C., Credit Counsellor
As a Client & Creditor Relations Manager my day is normally spent providing help and support to my team who work as a liaison between Clients and their creditors. I am providing direction and coaching to my team members, and I am part of a collaborative team to help simplify our processes and work to have positive working relationships within the organization and the thousands of creditors who work with us.
What I enjoy most are the people that I work with. We all have a strong desire to help people and feel motivated by what we do and are rewarded when a client says thanks for all you have done to help me. I work here because I believe we help to make families happier by helping to take debt pressures off.
I feel grateful and proud to work for CCS. We have a strong culture here to promote from within. I started here 12 years ago as a Credit Counsellor, became a Team Lead, and then a Manager. I am constantly pursuing continuing education to learn and grow, and CCS financially supports me in that. We are continuously looking for ways to improve, and that's why I would recommend this as a great place to work.
– Stacey S., Client & Creditor Relations Manager
Sometimes people ask me whether it is hard to spend your day talking with clients who are experiencing difficult times. I often respond that it really is the opposite – it is amazingly uplifting when you realize how appreciative most clients are to any assistance you can provide – whether that is a long-term solution, a short-term solution, a piece of advice or just lending an ear. We Help. We Educate. We Give Hope. It really is a true statement, and it's very rewarding to be a part of it.
– Pauline R., Credit Counsellor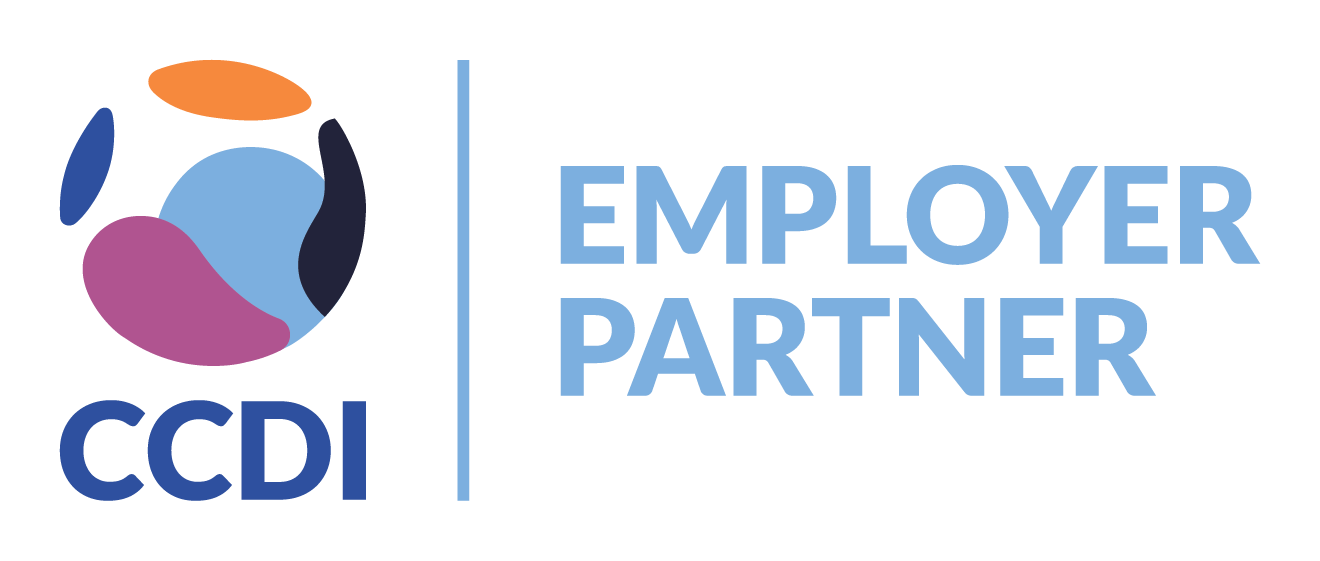 Partnering with the Canadian Centre for Diversity and Inclusion (CCDI)
Credit Counselling Society is committed to offering a safe, respectful, and equitable environment for all of our team members, clients, and other members of our communities. With this in mind, we have become an Employer Partner with the Canadian Centre for Diversity and Inclusion (CCDI). This organization is focused on enhancing equity, diversity, and inclusion in Canadian workplaces, offering webinars, research, and resources to support employers and employees in creating teams that are supportive and welcoming for all. To learn more, please visit ccdi.ca.
We Always Put the Interests of the People We Help First
Our goal is to always put consumers first and look out for their best interests in everything we do. To ensure we're following best practices and are accountable to the highest standards, we have pursued and obtained accreditation from the leading accreditation bodies in our industry and the non-profit sector in North America.