A comprehensive and unique benefits package. 
Beyond the Job Description
If you are looking for a rewarding career in the credit or financial industry and love to help people, you've come to the right place. To us, our work is more than just a job; it's about making a lasting, meaningful difference in the lives of countless Canadians. We believe in supporting our team of outstanding employees and making sure that they are properly taken care of so that they can focus on what's most important—helping people.
Click on any of these topics to find out more about what it is like to work for the Credit Counselling Society (CCS) and the benefits and support that we provide to our valued team members.
Our Employee Experience
What our staff think about working at the Credit Counselling Society:
We participate annually in the Great Place to Work employee survey, and more than 90% of our team respond that CCS is a great place to work! Our employees are proud of the work that they do here, they feel that the culture is supportive and welcoming, and they have opportunities to learn and grow.
"This is an excellent place to work."
"CCS has a very open, friendly culture."
"Teamwork is very solid."
"Welcoming and very friendly organization."
"Good benefits, compensation and vacation time"
"Opportunities for growth exist."
"I love working here and would not want to be anywhere else."
Anonymous quotes provided by an independent consultant who interviewed all of our employees.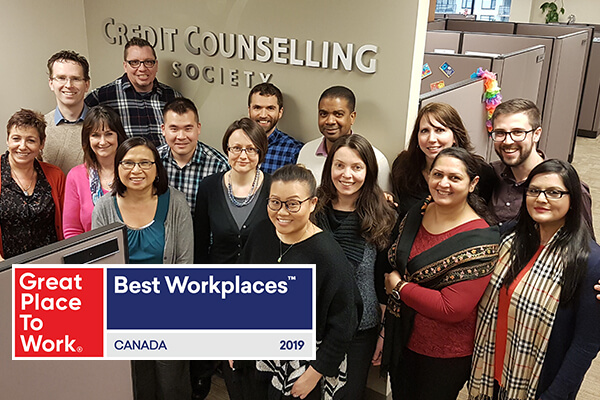 Our Benefits
We are pleased to offer our employees a comprehensive and unique benefits package:
Health Spending Account – flexible coverage for prescriptions, vision, dental, and many paramedical practitioners.
Vacation – starting at three weeks, with increases after five and ten years of employment.
Sick/Personal Leave – six days per year, which can be taken in hourly increments.
Additional Leave – three CCS days per year and half-day Fridays before long weekends.
RRSP Matching – up to 5% of annual salary, with increases after five and ten years of employment.
Educational Reimbursements – up to 5% of annual salary to support ongoing learning and development.
Fitness Reimbursements – contributions to gym memberships and fitness classes to encourage physical well-being.
Employee Assistance Program – offering counselling and support resources to employees and their families.
Annual Employee Recognition Events – every year, we bring all of our employees across the country together for a training and team building event.
Compensation
We believe in fairly and competitively compensating all of our employees for the work that they do. To ensure that our employees' salaries are very competitive, we recently commissioned a human resources consulting firm to evaluate our salary scales. We then worked with these consultants to ensure that our compensation overall is fair and competitive.
We feel that recognition for good work should extend well beyond monetary compensation. Some of the other ways that we recognize our team members is by acknowledging every person on their birthday as well as their anniversary date with CCS. We also give our team members extra days off for perfect attendance. In addition, each year we make a $100 contribution to each employee's RRSP in honour of their birthday and service anniversary with CCS.
Interesting Career Paths
As we reach out to more and more Canadians every year, the Credit Counselling Society continues to grow rapidly.We are committed to promoting from within, so wherever possible, we like to offer the opportunity for our employees to grow into new roles as they come available. In addition, we offer career planning resources and leadership development training to support employees in achieving their personal goals.
Our Employee Training
We train our staff to the highest standards in our industry, and then we provide ongoing training to ensure our staff are fully equipped to best serve our clients. We pay for 100% of the tuition and fees related to training that is required for our employees work, and offer a generous educational reimbursement program to cover any additional training that our team members wish to pursue.
As part of the training that is required, CCS has an in-house Leadership Development Program which supports our employees in strengthening their knowledge of the organization and enhancing their leadership skills.
Our Leadership Team
The majority of our Leadership Team has been promoted from within, which means that they have a strong understanding of the roles and responsibilities of the team. We have a supportive and transparent approach in leading our team, providing helpful feedback and being open to suggestions on how we can make our team even stronger.
We are helping more people than ever before, and we need good people to help us reach out to Canadians who need help managing their debt, money, and credit. We believe that we are one of the best places to work in Canada, and we believe that the service we offer is one of Canada's best kept secrets. If you have a passion for helping people and our organization looks like the right fit for you, we would like to hear from you!