How to Plan a Vacation on a Budget
Q: Our two weeks of summer vacation time are fast approaching and we haven't planned a thing. While we can't afford to spend a lot of money this year, we'd like to still do something special without blowing our budget. What can you suggest?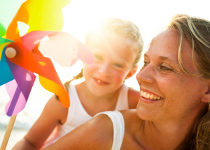 A: After what has been a damp and cool spring across Canada, most people are looking forward to enjoying the summer sun. Many families have traditional summer vacations that they look forward to each year, but like you, are reviewing their holiday budget carefully this year. Here are some points to keep in mind as you start your vacation planning:
Plan Your Vacation According to Your Budget
Start by considering your budget. Often times we plan the holiday first, and afterwards we try to
figure out how to pay for it
. Change things around this year and establish your vacation budget first. Agree to pay for everything with cash and stick to what you can afford.
Choose a Vacation Theme
Choose a theme to help guide your decisions. A location often dictates what we do for our holidays. For instance, if you camp by the lake, you may go canoeing, fishing or waterskiing. Consider taking some time away from the lake and choose an activity theme with affordable options, such as "history." You may want to visit several of the local museums or parks in the area. With a little advance planning and research you will likely discover a number of low cost/no cost activities the whole family will enjoy. A theme gives you the flexibility of choosing where to go and what to do without overspending.
Consider Enjoying What is Close at Hand
If you can't afford to travel for the entire two weeks, be a tourist without getting lost. Take a few days off before or after your trip to enjoy your garden, having friends over for a barbeque or just kicking back at your local beach.
Staycations
come with the benefits of no additional accommodation and transportation costs, and only have one rule – no chores.
Take Turns Planning Your Vacation Days or Activities
Create a vacation calendar. Take turns planning one day or event at a time, giving everyone in your family a chance to help decide what to do. Start with a community recreation guide or a local events listing. Do the things that you never have time for during the rest of the year, but avoid running from pillar to post.
Last Minute Deals
Depending on your budget, a last minute get-away might be possible, even just for 4 days. Subscribe to get online deals by email and start watching prices to help with your planning. There are so many affordable last minute vacation options. Choose one and relax!
Related Topics from MyMoneyCoach.ca:
30 Staycation Ideas (Super Cheap Vacation Ideas)
How to Afford a Family Vacation This Summer
<< Back to the Blog main page