Car Debt – High Interest Rates | What to Watch Out for with New Car Ads
Q: I'm thinking about replacing my car. Looking at the new car ads and financing options available, it seems like now is a great time to buy. What do I need to consider when looking at the ads?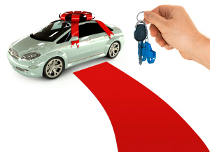 A: The sole purpose of a car ad is to get you onto the car lot. The ads are enticing, making it seem easy to afford a new vehicle.
Here are a few things to keep in mind as you look at the advertising:
Weekly payments

Most people don't budget for weekly loan payments, so while a weekly payment amount may look small, it's wise to calculate what the equivalent biweekly or monthly payment amount would be if you're considering the loan the dealer is offering.

Cash back to pay off credit cards or go on vacation

While it may seem like a great offer, the extra cash is added to the price of the vehicle. If you are financing your new car through the dealer, your loan will be higher and for more than the purchase price.

Zero-per-cent financing for 48 months

When the dealer processes your credit application, your credit score will determine if you qualify for zero-per-cent financing.
Only clients with really solid credit ratings qualify for the best rates. The great deal on the car may not be so great if your loan rate is seven per cent or higher.

Buyout at the end of your loan

Sometimes the low-interest period — for example, 48 or 60 months — won't be long enough for you to repay the entire car loan with monthly payments you can afford. If this is your situation, be aware that there may be a buyout at the end of your loan.
People are typically familiar with buyouts at the end of a lease, but not a loan.
When considering whether a new vehicle is right for you, do your homework before talking to a dealer.
Consider what you can afford each month for payments, insurance and maintenance.
To maintain the warranty on a new vehicle you must stick to the required maintenance schedule laid out in the owner's manual. Many dealers have additional maintenance suggestions that can amount to costly extras you didn't anticipate.
It's easy to dream about being behind the wheel of a shiny new vehicle but without a little planning your new car can turn dreams into a financial nightmare.