Budget Breakdown for Monthly Costs
Time-tested, general budgeting guidelines for almost any level of income.
How Much Money to Spend on Living Expenses
Budgeting Guidelines
A lot of people wonder how much of their income they should spend on their home, vehicle, groceries, clothes, etc. Below are some guidelines to give you a general idea and provide you with a starting point for your budget. What that will look like exactly depends on your income, family circumstances, and where you live.
Start working with these guidelines by developing your budget with your net income. This is the money you have left after government deductions from your pay cheque, but before voluntary deductions like RRSPs, pensions, or other savings. If you have costs like high debt payments, childcare, or school expenses, you'll need to lower your spending in other areas to allow for these higher costs.
Budgeting Guidelines

Costs of Living by Category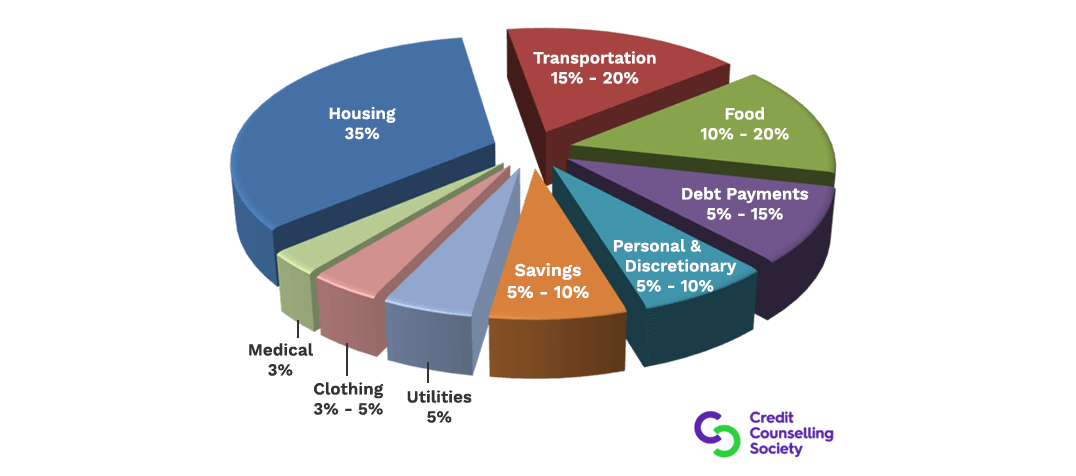 Breakdown of Cost of Living Budget Categories
Whether you rent, mortgage, or own, your housing needs will likely take up around a third of your budget.
Examples of utility costs are cell phone, gas, and internet bills. If they're taking up a lot of your budget, you may consider cutting down on usage or getting cheaper plans.
Getting the right groceries is important for both your wellbeing and your wallet's.
Transportation (15-20%)

20%

20%
Unless you can walk or bike everywhere, getting around will likely take a chunk out of your budget.
Clothes often last many years and you can save a lot by reusing them for as long as you and your family are comfortable.
This includes premiums, specialists, and over-the-counter medication. Your health is priceless, but it shouldn't overwhelm your budget.
Always leave some money to reward yourself for your hard work and do whatever it is that you enjoy.
Put away some money every month so that you're both prepared for unexpected costs and working towards future goals.
Debt Payments (5-15%)

15%

15%
Many people find that their budget is quite tight because their monthly debt payments are close to 25% of their after-tax income.
The Easiest Way to Use the Guidelines
To make budgeting easier, we've built these budgeting guidelines into an Excel Budgeting Calculator Spreadsheet provided through our educational website, MyMoneyCoach.ca. It's free and easy to use – even if you've never touched Excel before. If you don't have Excel on your computer, you can also download it for the Mac or OpenOffice (free open source office software).
As you enter your living expenses, the interactive spreadsheet will calculate all the spending guideline numbers for you. It also visually compares your spending in each category to these guidelines so that you can see how you're doing. As you fill out the budget spreadsheet with your living expenses, it warns you if you're going over the guidelines in any area of your budget and shows how your spending falls into these guidelines. It also suggests spending amounts for every budgeting category listed above based on your income and family size. When you're done, it shows you what your budget looks like in a pie chart divided into the various expense categories.
On top of all this, the budgeting calculator offers you tons of helpful suggestions and tips along the way so that you can avoid the common pitfalls of the budgeting process.
How to Create a Budget With Irregular Income
If your earnings change often or are different month to month, creating a budget with irregular income can be challenging. To make things easier, try using one of these 3 strategies for creating a personal budgeting plan for irregular income. These practical strategies will give you simple but effective ways to make sure you're not spending too much in better months and have enough to spend in harder months. 
Prefer to watch and listen rather than read? You can also learn how to plan for and budget with irregular income in one of our free online workshops.
Looking to get back on track?
Get started today by making an appointment to speak with one of our credit counsellors. We're happy to answer your questions and help you. All of our appointments are free, confidential and non-judgmental.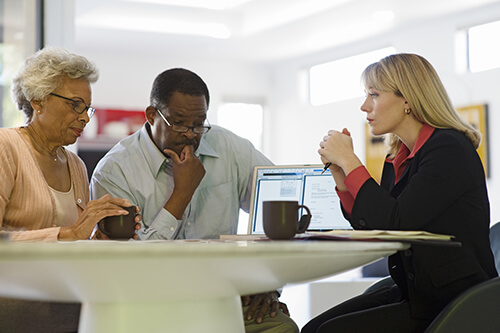 Getting Rid of Debt
We're happy to help you figure out your options. There are more than you might think.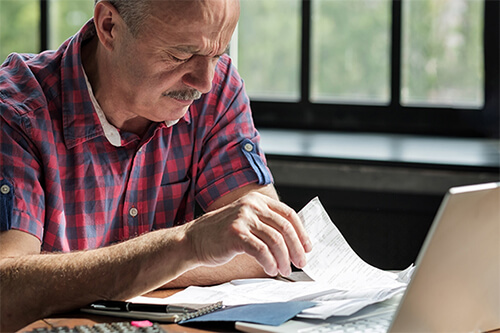 Loan Calculator
Find out how much you can afford to borrow and repay, how long it will take, and what it will cost.
Track Your Spending
An essential part of building a budget is tracking how much you actually spend. Here's how.