Need Debt Help? Consider Non-Profit Credit Counselling
By Debra Pangestu
Running into financial difficulty can take a toll on different aspects of your life, and if your debts are starting to affect you physically, mentally or emotionally, one of the best things you can do for yourself is to get debt help through a non-profit credit counselling society.
When money is tight and you're struggling to make ends meet, it's common to feel overwhelmed. However, what many people don't realize is that they aren't alone in this struggle, and it's something a not for profit credit counselling agency can help them get through.
Non-Profit Credit Counselling: What Is It?
These non-profits offer a range of credit counselling services to consumers in financial difficulty. In addition to offering free, confidential counselling appointments with an accredited Credit Counsellor, most non-profit agencies also provide budgeting assistance, money management education, seminars and webinars, and referral services.
The first step in consumer credit counselling is to make an appointment to speak with one of their Credit Counsellors, which can be done either in person or on the phone, depending on which agency you're working with. For most non-profit agencies, there is no cost for this appointment, but fees do vary from agency to agency, so it's best to do some research ahead of time so you know what costs – if any – are involved.
During this meeting, your Credit Counsellor is going to do a complete review of your financial situation by looking at your income, your expenses, your debts and your assets. Once they've  put together an accurate picture of your current financial situation, they'll lay out all your options to get out of debt, help you manage your bills and living expenses by creating a realistic budget, and develop a plan to help you regain your financial footing.
If you're having difficulties managing your debt payments, a common non-profit consumer credit counselling service they offer clients is the repayment of debts through a debt management program. Essentially, your Counsellor will contact your creditors and try to negotiate a new payment plan based on what you can afford, often at a reduced interest rate. Once the payment plan has been agreed to by your creditors, you'll only have to make one payment each month to the credit counselling agency, who will them disburse the money to your creditors.
Related: How to Consolidate Using a Debt Management Program
In addition to helping you restructure your debt payments, most non profit debt counselling agencies also provide you with free resources, workshops and webinars related to money management and credit education. With these tools and resources at your disposal, you'll better understand how to pay off debt, cut back expenses, better manage your money, create a budget, use credit wisely, and remain debt free.
Why Work With a Non-Profit?
The advantage of working with a not for profit debt counselling agency is exactly what their name implies: they aren't trying to turn a profit from the individuals they're helping. They're not in the business of making money. They are in the business of helping those in financial difficulties obtain debt relief in Canada. So you can rest assured your best interests will always be at heart.
Low cost – and in some instances, no cost – services are another advantage of non-profit credit counselling agencies. Most agencies receive donations and grants from the credit industry, businesses and the government, which allows them to provide counselling appointments, workshops and webinars for free, and other services at a minimal cost.
If you're unsure of the fee structuring, it's best to check with the agency before agreeing to sign up  for any programs or services. There are many great non-profit credit counselling organizations across Canada who are available to help you review your situation and provide confidential, non-judgemental help for free. It's just a matter of finding the right one for you, which we'll cover next.
How to Choose a Reputable Non-Profit Credit Counselling Agency
If you would like to consider your various options by sitting down with a Credit Counsellor, it's important that you do your research to find a reputable organization and a qualified Credit Counsellor. To start, check the recommendations of the Better Business Bureau as well as your provincial consumer protection agency.
Also, look for organizations that are members of Credit Counselling Canada. To be a member  you must be a registered Canadian charity, which means they are governed by a volunteer board of directors, are licensed in the provinces in which they operate, have successfully completed the accreditation requirements, and adhere to specific standards and audit requirements.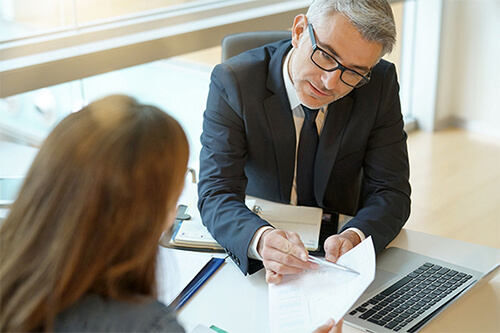 Once you've narrowed down your choices to a few organizations, it's time to do some comparison shopping. The type of services provided by a credit counselling society can vary greatly, as can the costs, so ask around and make sure you find an agency that can offer you the help you need. Here are some things to ask as you  look around:
What services do  they provide?
Is there a fee for those services? Will those fees be reduced or waived if I can't afford it?
What are the agency's qualifications, and are they properly licensed?
Are all the Credit Counsellors qualified and accredited?
Can I meet with one of your Credit Counsellors to see if the agency is the right one for me? (most reputable credit counselling agencies offer this for free)
If, after meeting with a few Credit Counsellors, you've found an agency that has your best interests at heart and can offer you the help you need, it's important that you confirm more details – fees, responsibilities, obligations – before signing on to one of their debt management programs. Some things to ask:
What fees are associated with going on the debt management program? Is there a set-up fee? Monthly maintenance fees? Application fees?
What happens if my financial circumstances change and I can no longer make my payments?
Will the agency provide a written description/contract of how they will help me pay off my debts?
Does the contract clearly state what my responsibilities are, how much I will pay in fees, and what I can expect from the agency?
Will the agency provide any support or resources to help me learn better money management skills?
Knowledge is power, and when it comes to your finances, it's best not to take any chances. Do your research, shop around, and know exactly what you're getting into and what you can expect before you sign that contract.
Is Credit Counselling For Everyone?
Although must people turn to non-profit credit counselling agencies in Canada when they're feeling overwhelmed by the amount of debt they have, what many consumers don't know is that these agencies can be a great deal of help to you even if you currently don't have any financial problems.
In addition to providing debt counseling, they can help you fine tune your budget and provide tips on how to improve your current savings strategies so you won't run into any financial challenges in the future. Most non-profit credit counselling agencies host financial education workshops, provide webinars, and have educational tools, all at no cost. These resources are available to anyone who wants to learn how to manage their money better, regardless of their age, gender, race or income level.
Financial literacy is a learned skill, and unfortunately it isn't something that's often being taught in schools. However, most of the free services offered by these non-profit agencies are aimed towards filling in that gap so more consumers will know how to improve their finances and make smarter money choices. You can never have too much knowledge, and it's never too early – or too late – to start.
If paying off your debts and getting your finances in order has become more of a challenge, getting help from a non-profit credit counselling agency is one the best things you can do for yourself, and for your finances. In addition to helping you navigate the unfamiliar waters of the credit industry, your Credit Counsellor will also help you develop a budget, map out a debt repayment plan, and provide you with all the tools and resources you need to remain debt-free.
If you'd like to speak with with someone at our organization, the Credit Counselling Society, we would be happy to help you. Feel free to call us, chat with us online, or book an appointment to speak with one of our Counsellors. We're here to help, and you've got nothing to lose except your debt.