Getting Rid of Debt – What to Know About the Best Way & If You Need Help
By Julie Jaggernath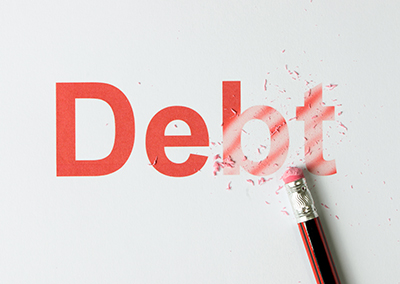 Are you looking for ways of getting rid of debt? Credit cards, car loans, consolidation loans, and bills – does it feel like all you ever do is make payments? Maybe you've even tried to get out of debt fast on your own with a DIY plan for paying off credit card debt. If this sounds familiar, you've come to the right place. We know the best ways to pay off debt and we want to share them with you. Or if you already know that you need help, give us a call or fill in the form on the right. We're happy to help you find the best way to get rid of your debt.
Best Way to Pay Off Credit Card Debt
After finding a method to pay down debt that works for you, the best way to pay off credit card debt and other debts is to set some savings aside as part of your plan to get out of debt. Does this sound backwards to you? It does to a lot of people we talk to. Savings is a vital part of any get out of debt plan – here's why:
Think about how you got into debt; it likely wasn't one big purchase. You probably used your credit cards to help make ends meet or to pay for things that make your lifestyle a bit more comfortable. When you stop using your credit cards while you work to pay them off, you need money for unexpected expenses. If you don't have any money set aside you'll go right back to using your credit cards, line of credit, or overdraft. Avoid this problem by incorporating savings into your debt reduction plan.
Top 3 Tips If You Need Help Getting Out of Debt
If you need help getting out of debt, below are 3 tips to keep top of mind. While there's no simple way to get out of debt fast, there are things you can do that make it easier.
1. Your Budget Will Be Your Key to Success
What you earn, or money that comes in, and how you spend it will help you determine the fastest and most effective ways to deal with your debts. For some people the snowball method works best; for others, the avalanche method is better. You may want to explore offering your creditors a debt settlement. There are any number of ways to pay off debt and a get out of debt calculator can help you see which method will work best for you. However, your budget and how you motivate yourself to stay on track will be your key to success regardless of which method you choose.
2. There Is No Quick-Fix for Debt
As tempting as it can be to fall for a catchy ad or commercial, there is no quick fix for debt. It took time to get into debt; it will unfortunately take time to get out of debt. Getting taken by a scam will feel worse than being in debt. Resist dealing with anyone who makes promises that sound too good to be true (e.g., it is not actually possible to get rid of debt on your credit report if the information is accurate). If you take a little time to ask questions and explore realistic debt relief options and solutions, you will find this out.
3. It Almost Always Takes At least Some Money to Get Rid of Debt
If you're looking for how to get rid of debt with no money or without paying, your options are more limited. Communicating with your creditors effectively is one solution. However, depending on circumstances, letting the debt collectors know that your budget is too tight right now to make payments might end up making your situation worse rather than better.
Other options for getting rid of debt without paying or with no money are offered by bankruptcy trustees. One of our Credit Counsellors can tell you more and will refer you to a trustee in your area who we know will treat you right. Contact us to make a free, confidential appointment and get your questions answered.
We're Happy to Help You Find the Right 'Get Out of Debt Plan' for You
Getting rid of debt is much easier with a personal get out of debt plan that fits your situation. If you don't have enough money, are on low income, or have bad credit it can be tempting to ignore your bills and payments. However, there are options and solutions even if you feel hopeless about your debts. Contact us now to get answers to your questions. Our appointments are free, confidential, and don't obligate you to anything. We will give you guidance and suggestions – what you end up doing is totally your choice. We're simply here to help you put your plan into action.