How to Find the Money to Pay Off Debts – Try a No Spend Challenge
If you're looking to find the money to pay off debt quickly, or even jump start your savings fund, taking on a No Spend Challenge is a great tactic to curb your spending.
A No Spend Challenge is exactly what it sounds like – a fixed period of time where you don't spend any money except for your daily essentials. It stops you from impulse buying, shopping out of boredom, and simply stocking up because products are on sale. Instead, you're forced to take stock of everything you already own around your home and use these possessions while your bank account stays untouched. Ultimately, at the end of the challenge, you'll have more income to dedicate to debt repayments or savings.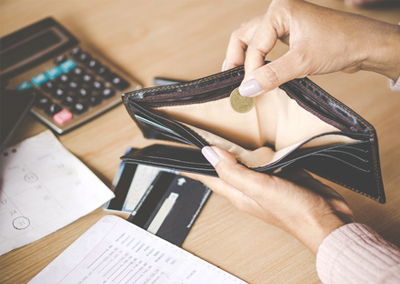 Sounds enticing, doesn't it? Here's your guide to the No Spend Challenge, how it works, and what you'll learn through the process.
How Does a No Spend Challenge Work?
For starters, you need to set the ground rules for your No Spend Challenge, starting with the timeframe. You can dip your toes into it with a No Spend Weekend Challenge, where from Friday to Sunday night, you're staying away from anything that'll require your wallet. Others try entire No Spend Weeks or a No Spend Month for big results.
Once you get the hang of it, you can even incorporate a few No Spend Days throughout the week or a No Spend Week once a month.
Opportune times to take up a No Spend Challenge are after expensive months like the Christmas holidays or after a busy summer of vacations, barbecues, and parties. The month following a No Spend Month is a great time to reel in the spending so you can focus on paying off debt or replenishing your savings.
A No Spend Week will encourage you to reflect on your daily habits. You won't be allowed to buy a coffee in the morning or grab lunch with your co-workers. A No Spend Month could leave you with much more in savings and will also show you ways of stretching your budget, stopping habits like online shopping, and creating new activities that don't require big spending.
Setting the Ground Rules for a No Spend Challenge
You'll set the parameters of your No Spend Challenge after you've decided on the timeframe. If you're conducting a No Spend Weekend, the rules should be simple and clear cut – stash away all cash, debit, and credit cards and use only what's already in your possession.
A No Spend Week or a No Spend Month, on the other hand, requires a bit more planning and some money budgeted for your needs, such as fresh produce, transportation costs, and a few personal supplies. If you're carrying out a longer No Spend Challenge, set a budget for how much you can spend for buying groceries and other essentials to get you through the time period.
Obviously, fixed expenses are allowed during any type of No Spend Challenge. These include your mortgage or rent payments, debt repayments, utilities, and household bills like your cell phone or internet, groceries, and gas for your car. You may be on a month-long No Spend Challenge but you shouldn't ignore any of these mandatory expenses because they should already fit within your balanced budget.
Expenses to cut during a No Spend Challenge include eating out – from morning coffees and breakfast sandwiches, to work-week lunches, weeknight takeout, and weekend restaurant dinners. It also includes shopping for clothes, accessories, makeup – anything that isn't a necessity. You'll also need to stay away from more costly activities, like going to the movies, however, if you already pay for a streaming service, watching movies at home is fine.
What to Do During Your No Spend Challenge
Start by figuring out why you're doing it. A No Spend Challenge takes dedication, so to stay focused you need to be clear on why you're taking on this task. Are you doing this to focus on debt repayment for the month or to get a better understanding of your spending habits? Maybe you're trying to determine if you're an impulse shopper or you're trying to stop bad habits like heading to the mall on the weekends or shopping online when you're bored? In most instances, people take on the challenge to reset their spending. There is a lot to gain from a No Spend Challenge but make sure it fits within your goals.
Take Inventory of Food Staples in Your Fridge, Pantry, and Freezer
Between the frozen goods in your freezer, canned soups, pasta and dried beans, and other condiments and spices stashed away in your kitchen, you likely have a treasure trove of ingredients to make tasty meals during your No Spend Challenge.
After a full inventory check, you can meal plan for the upcoming week – or weeks – and determine if you need to pick up fresh produce or perishables from the grocery store. You'll likely need the usual staples of milk, bread, eggs, and fresh fruit. Think of cooking up batches of hearty soups, chili, family-style pasta dishes, or casseroles using a mix of what you have on hand and the fresh ingredients you're allowed to buy.
The challenge is a great way to use up what you've accumulated in your kitchen and pantry, and it'll keep your grocery bills down too. Your meals will be healthier as you're abstaining from delivery and eating out.
Grocery Shopping Tips That Will Save You Money
Make Use of Everything In Your Home
Some people find they may need to stock up on household staples like toothpaste, dishwasher tablets, or laundry supplies before a No Spend Challenge but others realize their storage closet and pantry are already packed with these items. After tidying up your bathroom space, you could find half used bottles of shampoo or trial-sized batches of products that you need to finish up.
Most people tend to overstock their homes and buy household supplies in bulk while they're on sale. Instead of going to the store to buy more, check to see if you already have what you need and use up your supplies. This strategic move – known as shopping at home – will help you clear up space in your home, make use of what you have, and significantly lower your household expenses.
Shop in Your Wardrobe
For many of us, going shopping at the mall or online is a bad habit that's more often due to boredom rather than actually needing to buy something. A No Spend Challenge helps you pay attention to what you have, including a closet likely full of clothes, jackets, shoes, accessories, and jewellery.
Buying new clothes is absolutely off limits during a No Spend Challenge, unless it's a true necessity for your day-to-day living. With the challenge underway, rummage through your closet and your storage boxes and make the most out of your clothing. You could find clothes with the price tags still on them or other garments hardly worn at all. It's an eye-opening exercise and a good reminder that you really don't need to add to your wardrobe at all.
Get Creative With Entertainment
Test your creativity by thinking outside the box when it comes to entertainment during a No Spend Challenge. Going to the movies, concerts, baseball games, etc. will take a big chunk out of your budget at the end of the month. During a No Spend Challenge, you'll need to find cheaper ways of socializing, try organizing picnic lunches with friends at the park, inviting them over for board game nights, or exploring different parts of your neighbourhood through community events.
Put Away Your Credit Cards
During the No Spend Challenge, you're reeling in your spending, so it should go without saying that your credit cards are off the table. If you need to supplement with the essential purchases outlined above, use cash or your debit card and make sure your expenses fit within your budget. If you're adding to your debt during a No Spend Challenge, your efforts will be for naught.
Move Your Money
At the end of your challenge, reflect on how well you did. Ideally, you made it through the designated timeframe sticking to the ground rules you've set. That means, you didn't go shopping, you didn't go out for meals, and you didn't dip into your entertainment budget. You should be left at the end of your challenge with net savings – make sure you apply it towards your debts as an extra lump sum or move it into an emergency savings fund.
What to Do After a No Spend Challenge
At the end of the challenge, ask yourself how hard it was to break old habits or if this is a way to change your daily spending. You could decide that a morning coffee should be a treat once or twice a month instead of daily, and dinners out can be earmarked for special occasions like birthdays and anniversaries. You may have also realized that you've got more debt than you can take care of on your own. If that's the case, get in touch with us and we can help. Ultimately, you likely noticed a difference between spending for instant gratification and spending mindfully in line with your goals.