New Year's Resolutions: How to Set and Achieve Specific Financial Goals in 2020
I want to lose weight. I want to save more money. I want to get out of debt. I want to quit smoking. At the start of a New Year – and in this case, a new decade! – many people set New Year's Resolutions. Although well-intentioned, these goals fail weeks later. It's often because these resolutions are far too generic and lack proper planning.
Unsurprisingly, personal finance ranks high up on common New Year's Resolutions. Thirty-two percent of Canadians said they pledged to improve their financial health, according to a Tangerine poll. Twenty-eight percent pledged to commit to better money management, 45 percent want to spend less, 41 percent want to save more, and 31 percent want to pay down credit card debt.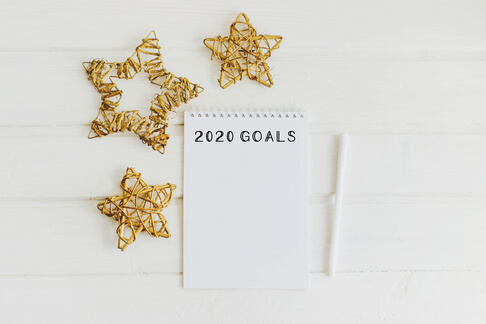 So how do you turn wishful thinking into tangible, concrete goals you can achieve in the next calendar year? Here's how to set legitimate financial resolutions, and plan for a solid path to the finish line.
Create SMART Goals
Whether it's weight loss, paying off debt, or eating healthier – set SMART goals, which means ones that are specific, measurable, attainable, realistic, and timely.
Getting specific is a two-pronged approach. First you need concrete numbers, if you want to save money, start an emergency fund, or pay off debt, for example. You also need a reason why you're doing this.
Erase the vague "I want to save more money" and swap it for "I want to save $5,000 in 2020." Instead of saying "I want to pay off debt," offer up an amount such as, "I want to pay off $5,000 of credit card debt." Suddenly, you've set a specific target so that you know what you're working towards this year.
You also need to understand why you're setting this goal, which you need to be specific about. This is part of the equation that is often overlooked but incredibly important.
Are you saving up $1,000 for an emergency fund because you're worried about your job situation? Maybe you're paying off $5,000 in debt because you want to be debt-free within the next three years.
A simple number with no personal meaning is just as bad as saying, "I want to save more." Understanding the why keeps you motivated as you truck on with your resolutions after the New Year's excitement wanes away.
Measurable and timely goals are easy to track because they're specific to start with. With a vague resolution such as "I want to save more," you have no idea if you're faring well or not. You could save $20 by year-end but is that a measure of success?
On the other hand, if you're hoping to save $12,000 by the end of the year, you'll know that at the six-month mark, you should have at least $6,000 saved and $3,000 at the three-month mark if you want to stay on track. That may be unrealistic, but you won't know you're off track if your goals aren't measurable.
Breaking your goal into smaller chunks makes the resolution far more approachable. Telling yourself you need to save a $50,000 down payment is intimidating. But committing to $17,000 a year – or about $1,400 a month makes the goal much more realistic.
6 Things No One Tells You When Buying a House
If you're paying off your student loan over the course of three years, you'll have multiple checkpoints along the way to measure your progress. If you have short-term goals — that are typically complete within the year — you're creating benchmarks every month or quarterly at the latest. It's your job to keep temperature checking your goals to make sure you're staying on course.
'M' could also stand for mutual if you're setting goals with a partner. Make sure you're both on the same page when you etch out your goals.
Figuring out if your goals are attainable and realistic lies within your budget. After crunching numbers, some goals may not be realistic without tweaking your deadline. If a $5,000 African safari trip is on your bucket list, working towards it in three years instead of one, for example, may be doable. Telling yourself you need to wipe out your mortgage within the next five years when you simply don't earn enough to do that isn't setting yourself up for success.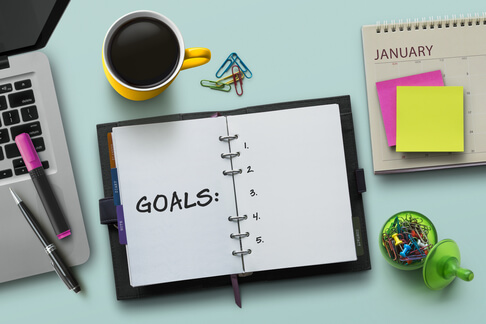 Consider all of your expenses for the year ahead, including your fixed expenses and all of your discretionary spending. How much is left over at the end of the month and where do you want to allocate these funds?
Your goal should be challenging but attainable. You could commit to make sacrifices in some categories, such as eating out, shopping, or travel, to achieve your goal. You could even look into generating a second income by renting out your spare room or doing some consulting work to help with your goals. As the saying goes, you can have almost anything you want, you just can't have everything.
How Many Goals Should You Set for Your Money?
Setting goals for your money can become addictive, but you don't want to get carried away. When you're getting started, your best bet is to set one short-term (completed by year-end), one medium-term (completed within 3 – 5 years), and one long-term (5 – 10 years) goal.
But keep in mind, your income and overall situation may determine what you can fit into your budget. If your budget is tight already, and you have many debts to tackle, your first priority should be wiping out your high-interest debts because they will get in the way of achieving other goals.
Remember – it's completely okay to set modest goals too. You may want to wipe out your highest interest credit cards or eliminate your credit card with the biggest outstanding balance. The avalanche or snowball strategy can help you.
For other people, creating a $500 emergency fund by year-end is a great goal that could help down the road.
Make Your Goals Stick
Once you've got a specific goal tethered to a solid reason why you've set it, write both components down. Some examples could be, "I want to save $1,000 this year to pay for a new laptop next year" or "I want to pay off $5,000 of my credit card debt so I can be debt-free and focus on my financial future."
People who put their goals in writing are more likely to achieve them.
When someone is trying to lose weight, they'll often place images of their ideal self on their fridge. This applies to your financial goals, too. Stick images of the house you're saving for, or your dream holiday, to your wallet, debit card, or credit card so that each time you whip out your credit card, you'll think twice.
Keep these resolutions and your plans to achieve them as a note on your smartphone, a Post-It note on your computer monitor, or save the picture as your wallpaper or screensaver. Some savers take it to the next step: they write their goals on their bathroom mirrors, so each morning they wake up with their goal in mind.
How to Turn Resolutions Into Results
One of the Best New Year's Resolutions & Goals You Can Set – Improve Your Financial Literacy
One of the best goals to include in your New Year's Resolutions is to increase your level of financial literacy. Attend one of our free workshops or webinars, read blogs and books, listen to podcasts, ask professionals (e.g. bankers, accountants, mortgage brokers, or insurance agents), or talk to trusted friends and family. The more you learn the easier it gets to manage your finances and spot the difference between the good and bad financial information out there. And if you ever want a free, confidential, no-strings-attached second opinion, contact us for an appointment with one of our professional Credit Counsellors. We're happy to help you reach your financial goals and establish the foundation for a strong financial future.