5 Last-Minute, Affordable Mother's Day Gift Ideas She'll Love
by Julie Jaggernath
If you are scrambling for last-minute, affordable Mother's Day gift ideas, you might already have the best present for your mom – time. Share time with your special lady, make an easy, cute, or inexpensive DIY present for her, or find some other way to show your appreciation in a COVID and quarantine-friendly way. Just remember, time really is more precious than money, so here are 5 last minute Mother's Day gift ideas that won't leave you dealing with maxed out credit cards.
1. Let Her Sleep In on Mother's Day
When is the last time Mom really got to sleep in, and didn't have to get up until she was ready to get up? Or maybe your mum's dream is to have a lazy morning in bed, reading or binge-watching a favourite show? This can actually take a fair bit of work to pull off, but dads, teens, and kids – rise to the challenge (and set your excitement to surprise your mom aside for a few hours)!
To help Mom not hear a thing, walk the dog, go for a drive, play at the park, plan a movie or games morning, surprise Grandma or Auntie if they're early risers, find something – anything – to do that won't cause a shuffle outside her bedroom door. You could even take what you need for the morning out of her bedroom the night before. If it's really last minute, instead of breakfast in bed, plan brunch or lunch and make homemade cards or crafts.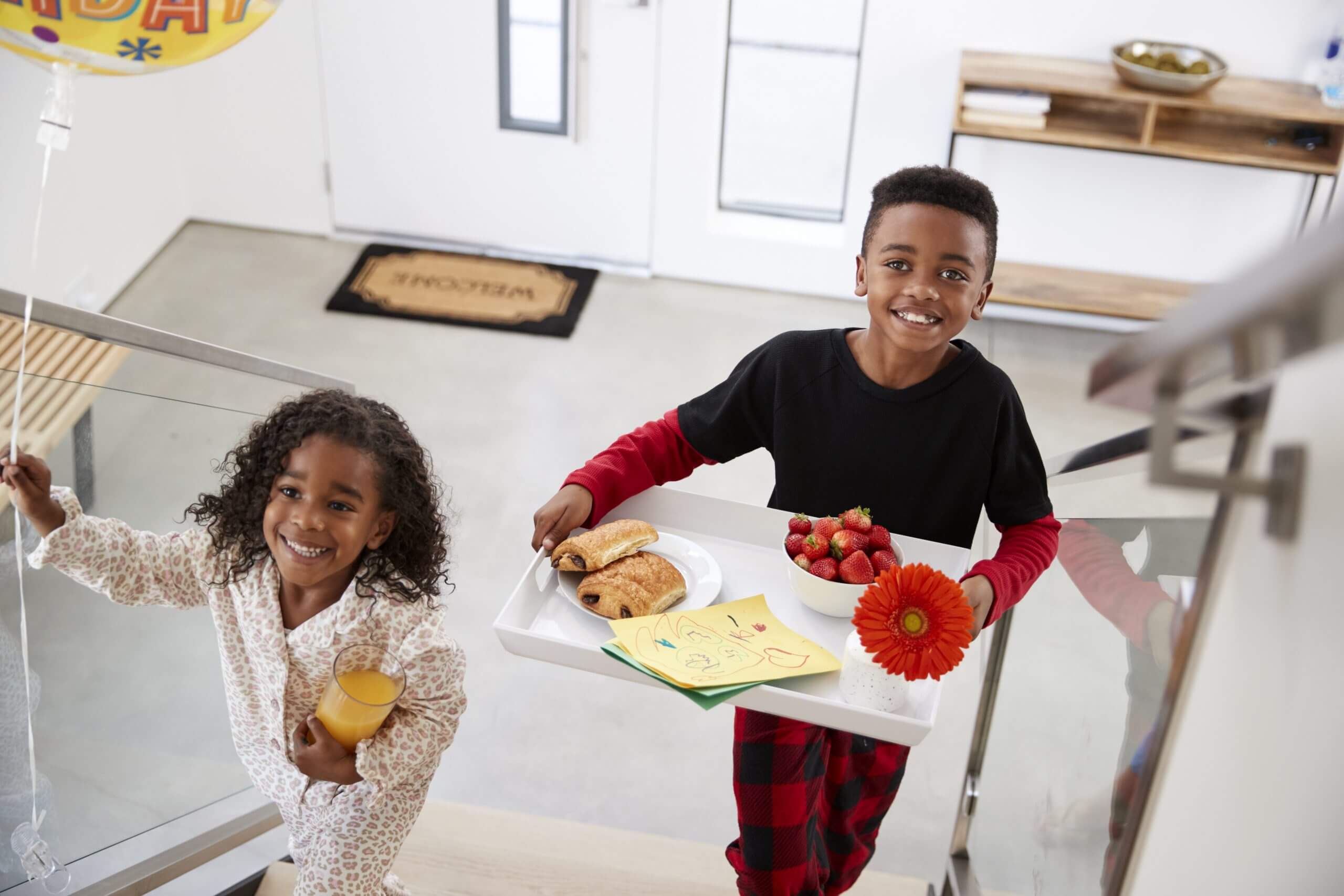 2. Knock a Chore Off the Honey-Do List
If you're not handy or creative, look around and see what chores your mom would really like help with. Is it weeding the garden, organizing a cupboard, hanging pictures, or cleaning up your room? Teens and tweens, if you give your Mom the gift of a cleaned up room, there's less nagging in your future – count that as a bonus!
If you have a senior mom or lady in your life, ask her what she would like help with. Then recruit your crew and make it happen. The trick to finding which chore to do is choosing one that your mom, aunt, grandma, sister, daughter, or other special lady will benefit from, and then doing it her way (ok, mostly her way). This will send the message that you really appreciate everything she does for you, her family, or others. And keep in mind that sometimes just spending time with your grandma – doing the dishes after lunch, keeping her company, and not rushing off – would really make her day.
Easy, Low-Cost Home Improvements to Do in One Weekend
3. Give Your Mom the Day Off
We talked about letting Mom sleep in, but if you want to go the extra mile on Mother's Day, give your mom the whole day off.  Heads up, though – be prepared. You're actually lucky that Mother's Day is on a Sunday because it lets you avoid the normal weekday routine. And trust me, you don't to go there . . .
Running a busy household is like running a business that's open 24-7, 365. If you're not the parent who typically manages the family budget and events calendar, don't try going rogue with a new routine for only one day. Instead, ask the expert (i.e. the mom) and follow her instructions to organize and prepare. This will help all of you enjoy your time and not make more work for Mom the next day!
4. Detail Her Car
While a clean car technically doesn't get her from A to B any better, cleaning her car, inside and out, is something no mom will turn down. Before you give it a wash, do the inside. Take the floor mats out, give the whole inside a good vacuum, take any garbage out, clean the windows, and dust the dash. When it comes to washing the car, don't forget all the parts you don't see when the doors are closed. If you're not sure what detailing a car really means, ask someone (other than Mom) who knows or do some research online. And if this car also doubles as your personal taxi, you'll enjoy the result of your hard work too.
Bonus tip: give her a BMW – a day free from B*ching, Moaning, and Whining!
5. Make Personalized Coupons
Any day can be Mother's Day, and every day is a good day to pitch in and help with what needs to be done. Kids young and old can make a book of coupons for Mom that she can redeem whenever she needs help (and whenever you need a reminder to help without complaining).
Coupon books can be handmade, coloured, sketched, or printed on the computer. It can be a list you post on the fridge or notes that you staple together like a book. There's no right or wrong way, so let your heart inspire you!
Keep Last-Minute Mother's Day Gift Ideas Affordable and Meaningful
Last-minute Mother's Day gifts don't have to break the bank. Affordable presents can be just as meaningful, especially when accompanied by your time and creativity. Mother's Day has become so commercialized that flowers, cards, chocolates, take-out, and gifts that moms love tend to cost more just in time for that second Sunday in May when we celebrate Mother's Day in Canada. So the best Mother's Day gifts might be choosing a different special date to celebrate the lady who means so much to you. But keep in mind that an alternative day isn't a way to get out of forgetting Mother's Day; that's something you need to talk about ahead of time with her. So whether you choose to spend time with Mom or give her time to spend on her own, time truly is a priceless gift!