Tricks for a Memorable not Expensive Halloween
Q: Is it just me or is Halloween getting out of control? Between costumes for our 3 kids, parties, treats and house decorations, we could easily spend $250 this year. Even though we could afford to spend this much, we just don't want to. Any suggestions?
A: While the average family spends about $300 on Halloween, it doesn't mean you have to. You and your family can have a memorable time this year without breaking the bank. The key to saving is being creative, using what you've already got and spending more time than money.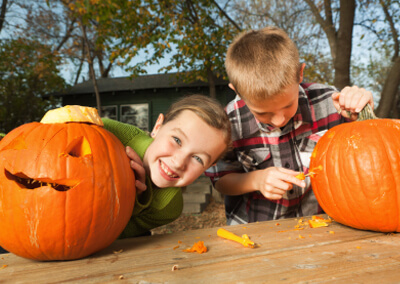 Help Kids Understand What's Reasonable & Fun
Halloween is largely a one day event. Have a discussion with your kids about their expectations and ideas about how everyone can enjoy this spooky time of year within a reasonable budget. Set a limit and help your kids plan within that amount. It's a lot easier on parents to explain to their children how much they can spend on costumes and decorations, rather than how much they can't.
Money-Saving Ideas That Won't Put a Downer on Halloween
Consider buying your pumpkin a day or two before Halloween, when they are on sale.
Coupons, coupons, coupons; before you buy anything, go online to see what coupons are available to save you money.
While everyone loves chocolate, it's also the most expensive treat to hand out. Give candy instead and just one per trick-or-treater. Keep Dad out of the treats until the trick or treating is over otherwise you may find yourself making a quick and expensive trip to the store.
Save a bundle on costumes by buying second-hand, swapping costumes with friends and family or going online to find great costume ideas that you can make yourself.
Put the kids in charge of decorations; what you don't have around the house to use, you can buy at your local dollar store. Try making some really cool ghosts using plastic milk jugs and white lights. Pinterest is a great place to get ideas!
Buy Halloween items on sale in November for next year.
Help Kids Learn Giving with Candy Buy-Back Programs
If your kids ended up with enough treats to keep them busy until Easter, or sticky stuff that will ruin their teeth and braces, look for dentists and orthodontists who have a candy buy-back program. Some will buy the candy back from the kids for about $1/pound, making an equal donation to a local charity at the same time.
Using Credit to Pay for Halloween is Not a Sweet Deal
Avoid paying for Halloween with credit. That could easily add 50% on top of what you've already spent, and that's no treat. Halloween is a fun event and with a little planning, the only fright you should receive will be from the ghosts and goblins who visit your home, not from the cobwebs in your bank account.
Related: Scary Good Money Ideas