Helping Canadians with Debt & Money Issues Makes the Credit Counselling Society a Great Place to Work
For a third year in a row, the Credit Counselling Society (CCS) was named one of Canada's Best Workplaces!
Picking up the phone and asking for help with debt and money issues is one of the hardest things many people will do in their lives. Knowing that the person on the other end of the phone cares, listens and wants to help makes all the difference.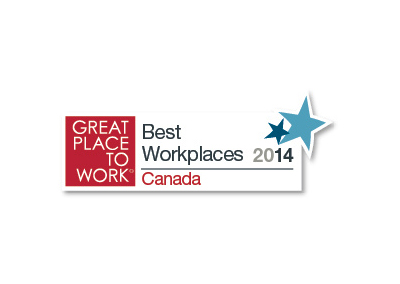 The Credit Counselling Society not only treats people looking for help this way, they use the same philosophy with all of their employees. That is one of the reasons they have been selected as one of Canada's Best Workplaces by the Great Place to Work® Institute for medium size companies.
"We are very proud to be acknowledged as the 19th Best Workplace by our team," says Scott Hannah, President and CEO of the Credit Counselling Society. "What's just as exciting is that we have great feedback in our survey results about how to get even better."
Clients Benefit from CCS Being a Great Place to Work
Being a Great Place to Work has also been a benefit for the Credit Counselling Society's clients. Over 97% of its clients would recommend the service to others, which might be part of the reason why it's also won multiple Consumer Choice Awards in Vancouver, Winnipeg and Regina.
"Awards like this tell us we are doing the right things, but also help us find ways to improve," says Hannah. "At the end of the day, if an award doesn't show us how to better help people, it's just a plaque on the wall."
Credit Counselling Society Uses the Awards and Recognition to Improve
This is the third year in a row that the non-profit has been selected as one of Canada's Best Workplaces in the medium sized (under 1,000 employees) business category.
They were also recognized as the 16th Best Workplace for Women from the 25 Best Workplaces in Canada, regardless of size, beating out large, well recognized companies, like Google, Starbucks, BMW and several Canadian banks, for the added honour.
In 2012, the first year the Society applied, it ranked #26, and finished #38 last year.
"We did a bit of soul searching when we fell back a few places last year," adds Hannah. "While we were proud to be included on the list, we didn't want to settle. We looked at where we didn't meet our team's expectations and developed a strategy to improve things."
Striving to Improve, CCS Found a Way to Listen to Feedback More Effectively
One thing that was introduced was a chance to sit down and have coffee with a senior member of the leadership team. Small groups of employees would spend an hour talking about what was working and which areas needed improvement. The discussions were shared between the members of the leadership team, and many of the suggestions were implemented.
"What we found was a number of small things that people wanted, things that would make their day go a little easier. It wasn't difficult to implement some of these ideas but, as we can see, it had a big impact on how our team feels about working here," says Hannah. "Our employees spend the entire day listening to and helping others. It makes sense for us to do the same for them as well."
Get Help with Your Debt from the Credit Counselling Society
If you're facing trouble with your debt, if you need help budgeting your money better or if you just need some more information about the services and programs of the Credit Counselling Society, contact them directly by phone, email or through the anonymous online chat feature on their website.
If you are looking for a rewarding career or job in credit or finance and want to work with one of Canada's best employers, check out our careers page or benefits and work environment page to find out more about what it's like to work at the Credit Counselling Society.