How to Get a Credit Report in Canada

Your own credit report is free and there are services for landlords to obtain credit checks
By Julie Jaggernath
Do you ever wonder what is on your credit report? We all know that when we want to borrow money, the lender will ask us to consent to a credit check. This check will provide the lender with information about the credit we currently have and how we've used it. But there's also an additional piece; the credit score. It's a 3-digit number that lenders use to determine the likelihood that someone will repay the additional money they borrow. While you might be curious about your credit score, it's the least useful piece of information to obtain about yourself. If you ensure that your credit reports are accurate and complete, and that you're paying your credit obligations as agreed, your credit score will take care of itself.
Check that Your Credit Report is Accurate and Up to Date
To find out if your credit report is accurate, you will need to request a copy of it from each of Canada's credit bureau companies – Equifax Canada and TransUnion Canada. Your credit report might differ from one company to another because it is up to a creditor who they want to report your credit activities to. Most of the main creditors report to both companies, but there are many lenders who only report to one company. The company they report to is also the company from whom they obtain information about your credit behaviour if they pull your report.
When it comes to verifying that the information is up to date, keep in mind that it only gets updated when you apply for credit. If you haven't applied for new credit in the past few years, but have moved house during that time, your old address will still be the one they have on file.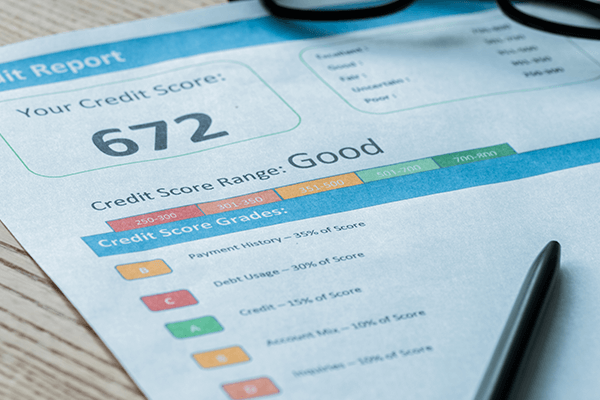 Request Your Credit Report for Free Online
The easiest way to get your credit report for free is through the online portal of each company. Equifax provides a free online credit report and credit score and TransUnion provides a free online credit report which they call a consumer disclosure. The information you enter must match the information they have on file. If it doesn't match, you may want to contact the bureaus by phone:
Equifax – 1-800-465-7166 (Automated Telephone Service)
TransUnion – 1-800-663-9980 (Automated Telephone Service)
Requesting your own credit bureau report is not a negative strike against you in any way. It's actually important to check it at least once a year and during transition times in your life. Whether you get your credit report online or by mail, it will also include instructions for what to do if any of the information isn't accurate.
What to Do If You Find Mistakes on Your Credit History Report
Once you receive a copy of your credit history report, it will contain explanations to help you understand it and instructions about updating or disputing mistakes and outdated information. The Government of Canada has also published a guide called Understanding Your Credit Report and Credit Score to help Canadians understand how the credit reporting system in Canada works. It contains all sorts of helpful information, including how long information stays on your credit report.
Understanding Your Credit Score
When it comes to your credit score, it changes often and there are set factors that influence a score. These are found on your credit report which is another key reason to ensure that it is always accurate. Understanding the basics of credit scoring helps you understand what you can do to improve your score. It's an important number when you're applying for credit, but don't obsess over your credit score. There's much more to maintaining your financial well-being than a 3-digit number.
7 Things That Are Not on Your Credit Report
Should a Potential Tenant Request Their Own Credit Report?
If you are a tenant and plan to apply for a new rental, get a copy of your own credit report before you consent to any credit checks. If there is something on your report that needs to be corrected or explained, it's best to deal with that before your future landlord finds out via the credit history report they obtain about you. It's usually not worth bringing a copy of your own credit report along to a property viewing, but landlords who don't know how to check someone else's credit might ask for it.
Stand Out to a Potential Landlord and Land Your New Place
How to Get a Credit Report About Someone Else
To generate some extra cash, you might decide to rent out a basement suite in your house, space you don't need in the garage, or even a spare room in your home. As part of the screening process for prospective tenants, you may ask them to consent to a credit check. Once they have signed and agree that you may obtain a credit history check, the trick becomes figuring out how to get a credit report for someone else.
Accessing someone else's credit report or credit score is not as easy as requesting your own credit report for free. You need to be a member of Equifax or TransUnion to access their services, which is cost prohibitive for most individuals who only need to pull credit checks periodically. In Canada, there is the Tenant Verification Service (TVS) which might be an option. TVS requires a landlord to pay a one-time, non-refundable set up fee and then they have a pay-as-you-go system for obtaining the reports you need when screening new renters. If you work with a property management company to place new tenants, they are likely a member of one of the credit bureau companies and will obtain a report through either Equifax or TransUnion. It can be worth hiring a company to place new tenants, even if you manage the day to day of your rental yourself.
How to Deal With Your Debts If Your Credit Score and Report Are Lagging
There's a lot to the ins and outs of credit reporting and scoring in Canada. However, if you stay on top of managing your money and using credit wisely, your credit score and report will remain positive. If you find out that you've got debts you forgot about or owe more than you're able to pay, reach out to us to discuss your situation with one of our credit counsellors. Appointments are free and confidential; your creditors will not find out you contacted us for guidance. The counsellor will not judge you and can answer your questions. You've got nothing to lose but your debt, and everything to gain!