How to Stop Collection Calls and Creditor Harassment
By Jordan Evans 
You're drowning in debt and now you're on the receiving end of a nasty, never-ending string of phone calls and threatening letters from your creditors or collection agencies. It can be a stressful situation when you can't keep up with payments and you default on your account. Collection agencies are notorious for harassing consumers into paying up — frequent calls at work and at home about your outstanding debts can only make the situation worse.
But you can regain control of the situation with a few steps, from educating yourself about your rights to taking the initiative to facing your debts head-on.
Here are 4 helpful steps to stop collection calls and creditor harassment you can do on your own:
Identify Your Debts
For starters, you need to make sure the creditor or collection agency is contacting you for debts that actually belong to you. If you have a common name, they may be calling you about someone else's account. In other cases, they could be calling you about debts you've already cleared.
Sometimes credit card companies and banks sell off old debts they were unsuccessful in collecting to a debt collection agency. The files are lumped together and shipped over to the third party company to recover the money. The information could be outdated, or nearing the statute of limitations, which is when creditors lose their right to enforce payment.
Either way, your job is to figure out why you're getting these intimidating calls and letters in the mail. Ask the debt collector who the debt belongs to, which creditor it's tied to, how much the debt is, and when the account went into default (Important Note: if this is an old debt you're dealing with, it may be nearing the statute of limitations. Every province sets a maximum length of time a creditor is allowed to try to collect payment for a debt. After this time passes, the creditor is legally no longer allowed to pursue you for payment of the debt. Make sure you always refer to the debt as the "alleged debt." Otherwise, your acknowledgement of the debt could reset the clock on the time the creditor has to collect on the debt).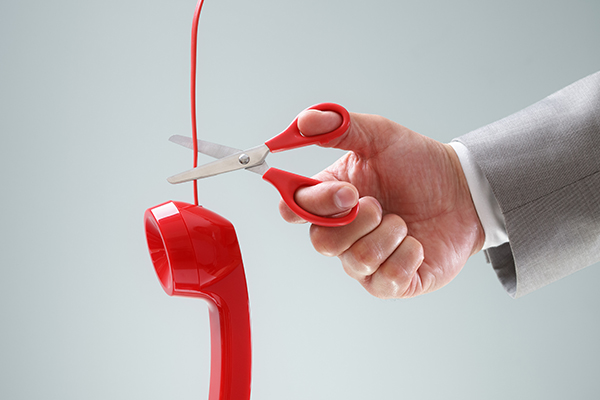 Take stock of all of your credit cards, lines of credit, and loans to learn which ones you are behind on. Look over your credit report closely to see which accounts have been handed over to a collection agency or have become delinquent. If the account isn't yours or you've paid it off already, let the collection agency and the credit reporting agencies know so that they can remove any inaccurate information from your profile. You shouldn't receive phone calls after that (if you do, you can report the collector to the consumer protection authority in your province).
But if the outstanding debts belong to you, you'll need to take care of it.
Know Your Rights
Pushy, aggressive debt collectors can be intimidating, but your best defense is knowledge — get familiar with your rights so you know when they're crossing the line.
Debt collectors have some notoriety for daily phone calls, issuing threats, and even contacting you at work or at all hours of the day.
By law, collection agencies are allowed to contact you about any outstanding debts you owe. Regardless of where they are contacting you from, they must abide by the laws in the province of their Canadian debtors. Associations between agencies can be formed, however, to try and collect money that is owed. 
They're not allowed to use profanity, issue threats, or lose their temper when they call. They're also not allowed to share details about your predicament with your loved ones or your employer.
Look into your province's debt collection laws: there are set times and protocol that debt collectors need to abide by. This includes how many times they can contact you within a day or a week, when they can phone you, and if they can contact your employer at all.
Take a careful look at any letters you receive — they may look like they're official court documents or court orders to pay your debts. This is also illegal.
Creditors and collection agencies don't have to tell you what your rights are in this sticky situation so it's usually up to you to sort out fact from fiction. However, you can always feel free to meet with one of our Credit Counsellors. They can help you look over anything you've received and give you some helpful guidance as to your next best steps or options. Our help is always free, confidential, and non-judgmental.
Take Action
If the nasty phone calls are unreasonable, take steps to stop them in their tracks with effective ways to communicate with creditors and collection agencies.
Each province has a consumer protection authority website — check to make sure the collection agency that's contacting you is licensed. If it isn't, or if their jurisdiction doesn't fall within your province, they don't have any rights to collect debts from you.
If they're legitimate and they've broken laws, report them to consumer protection authorities. It's up to them to revoke a collector's license depending on what's happened and if they're a repeat offender.
Finally, you can stop the annoying phone calls by requesting in writing that debt collectors only communicate with you moving forward in writing. Laws around this vary according to province, but it's typically called a "cease and desist" request.
Consider the time-frame, too. If the collection agency is calling you about a debt that's outside of the statute of limitations, they can't push you to repay your debts anymore.
Once the limitation expires in your province or territory, your creditor loses the ability to sue you for the balance of any amounts you owe. In B.C., Alberta, Saskatchewan, Ontario and New Brunswick, it's two years, so if you were to stop making payments on your credit card this month, your issuer has two years to sue you to settle the debt.
Figure Out Your Next Steps for Debt Repayment
Now that you've stopped the pesky phone calls, take time to think clearly about your next move.
At this point, your credit rating is taking a beating. Once your account goes past the six-month mark in default, you've hit a 9 rating (R9 for credit cards and lines of credit, I9 for loans) and it can't get worse.
You hold all the cards: you decide when, if ever, your creditor will receive a payment. As your debt gets older and nears the statute of limitations, your creditor may be more willing to accept a one-time lump sum payment for less than the current outstanding balance.
Your options are plentiful : you can pay off the debt in full, negotiate with your creditor, or look into a debt settlement, consumer proposal or a debt management program. Your decision-making depends on your budget, what's feasible for making debt repayments and how close you are to the statute of limitations. If you're hoping to secure a mortgage, loan or more credit products, resolving debts should be a major priority. However, if your budget is super tight and you're wondering how to pay debt off with no money, there are some little known debt relief options in Canada one of our Credit Counsellors can explain to you as well.
If a collection agency is involved, it may be instructed, as the middleman, to accept 90 cents for every dollar of debt you owe, for example. You can push for another settlement but the counter offer has to get the green light from the bank.
Any payments you make need to be documented — don't make any payments with cash and always ask for written verification of the debt owed. Record and date all payments, including the amount and to whom you're making payments to.
Seek Professional Credit Counselling – We Can Help
If you feel overwhelmed and don't know where to start, seek the professional help of one of our certified credit counsellors. Contact us by email, toll free at 1-888-527-8999, or anonymous online chat. Our appointments are free and confidential and don't obligate you to anything.
Your counsellor will review your whole financial situation with you, help you build a realistic budget, and provide you with information and guidance about your options to deal with any debts and bills. Unpaid accounts will show up on your credit report for up to seven years from the date of last activity (the date you either used the account or made a payment), stifling your chances of getting a loan at a reasonable interest rate, securing a mortgage and achieving other financial goals, so think twice before turning your back on outstanding debt.