Never Pay High Rates at Cheque Cashing Centres Again!
Free Alternatives to Get Your Cash, Fast
By Christi Posner
Cheque cashing centres make it really easy to get cash fast. Many people use the cheque cashing service at their nearest payday loan store instead of going into their bank. They can take in any type of cheque and five minutes later they're walking out the door with a handful of cash.
The problem is, most people don't realize they're being charged high fees to cash their cheques.
Convenience costs money; money which you can keep in your pocket if you know your alternatives.
Here are alternatives to cash your cheques and get your money for free!
What Kind of Rates and Fees are Cheque Shops Charging?
Popular cheque cashing marts are quick to hand you money but at what cost?
The most common fee cheque shops charge is 3% of your cheque, plus $3. So if you were to cash an $800 paycheque every 2 weeks, you would pay over $700 a year in cheque cashing fees!
If you use a credit card, $700 would be the interest payment for a year if you racked it up to $4000 at 19%. I'm sure you can think of better things to do with $700!
What To Do When You Need Cash Now

Free Cheque Cashing Alternatives for Employment & Government Cheques
If you had never really thought about the fees you pay when you need cash now, knowing about some free cheque cashing alternatives might just change your mind.
There are a lot of ways to cash employment cheques, as well as government or personal cheques. Click on a link to jump to the section you want:
Direct Deposit for Employment & Pay Cheques
Ask your employer if your pay cheque can be deposited directly to your account. Direct deposits typically aren't held. If you owe your bank money and are afraid they will take back any money that you put into your bank account, open a bank account elsewhere so that you can work on getting your situation back on track.
Take the Cheque to the Bank Where It Is Drawn
Take the cheque and your ID to the financial institution that it was issued from. The name of the bank is printed on the front of the cheque. A teller there will be able to see if the person or company who gave you the cheque actually has the money in their account. If they do, while they might charge you a small fee, they can give you the money instantly! The only complicating factor with doing this is that some banks will require you to go to the branch that the cheque was issued from.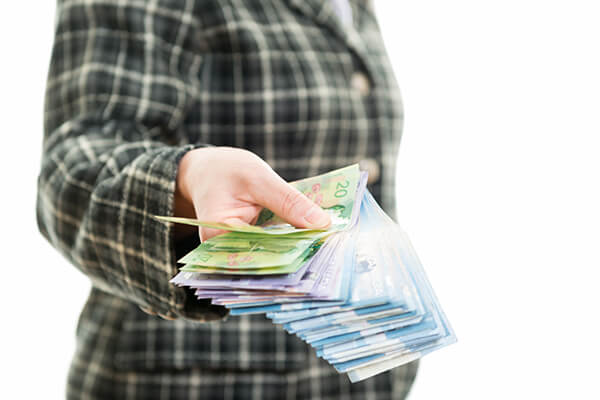 Cash the Cheque at Your Own Bank or Credit Union
Go to your own bank or credit union, and give the cheque to the teller instead of depositing it in the ATM. Many people can't access their money right away when it is deposited through an ATM, but a teller can verify that the cheque is good, and often give you money right away.
If they are going to hold a cheque, ask them to reduce or eliminate how long the hold will be. Sometimes a good relationship with your financial institution is all it takes.
Open a Bank Account Where Your Employer Does Their Banking
If direct deposits aren't possible, think about moving your account to where your employer does their banking. Then on pay day, deposit or cash your cheque in person. The teller can verify your pay cheque right away, and you should be able to get cash or deposit your money without any holds.
Cash Government of Canada Cheques for Free
If your cheque is a Government of Canada cheque under $1500, take it to any bank, along with your ID, to cash it for free right away.
How Long Does It Take To Get Cash from a Cheque? How Long Are Holds on My Bank Account?
Many people bring their cheques to payday loan stores because they're worried about how long the holds on their bank account will be. Recently, the maximum cheque hold periods have changed.
Generally, cheques less than $1500 will be held for 4 business days when deposited in person, or 5 days through the bank machine. For cheques over $1500, the holds jump to 7 and 8 business days.
While it might seem unfair, holds are put in place to make sure that cheques "clear" without any losses for the bank. Depending on your bank account, the rules might be a bit different.
Cashing Foreign Checks or Third Party Cheques
Third party and foreign cheques can be a bit trickier to cash and the alternatives listed above don't always apply. A third party cheque is when someone signs a cheque that they've been given and asks you to cash it for them.
Cashing a third party cheque can cause you a lot of trouble if it turns out to be a bad cheque, or if it has a stop payment on it. Your bank will want you to pay the money back. That is why cheque cashing centres or payday loan stores will cash these types of cheques, but with higher fees.
A foreign check is a check drawn on a financial institution in another country, like in the USA. A bank or check cashing mart charges you more money for a foreign check because they cannot verify if the check is good or not before giving you the money.
For foreign and third party cheques it's best to deal with your bank so that you can avoid extra or high fees.
Cashing a Cheque If You Owe the Bank Money or Have Bank Debt
Be aware that if you try to cash a cheque at a financial institution that you owe money to, you may be asked to have all of your payments up to date before receiving your cash. However, know that all Canadians are entitled to the first $100 of their cheques, regardless of their financial situation or if they have bank debt.
End the Cheque Cashing Cycle at Payday Loan Centres – Contact Us for Help Today
Cheque cashing fees are a huge waste of your money. If you want to stop cashing your cheques and paying high fees, let us help you find a better way to access your money. Contact us by phone, email or anonymous online chat to ask a question about alternatives to payday loans or cheque cashing centres, or to make an appointment with a credit counsellor who will review your financial situation and your options. Take charge of your money and keep every penny that you have worked hard for!