Credit Counselling Society & NoMoreDebts.org Highlights – How We Help
Do you ever wonder how much help the Credit Counselling Society (CCS) has really provided since opening its doors in 1996? Ongoing reports about record high household spending levels in Canada, supported by a reliance on credit, are contributing to the unprecedented demand for their services.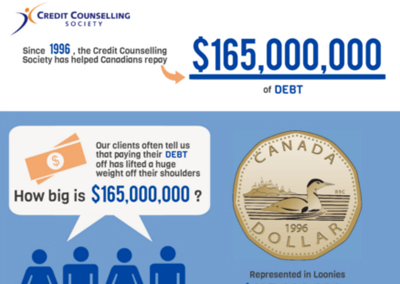 It's hard to show what helping someone manage their money and debt better looks like, but Scott Hannah, President & CEO of the Credit Counselling Society, did just that at the Annual General Meeting in New Westminster, BC on March 25, 2012.

Debt Repayment Program Consolidates Credit Payments & Pays Off Debt
The Credit Counselling Society has helped thousands of Canadians pay off staggering amounts of personal debt — over $165,000,000, and counting; and made a real difference in people's lives.
$165,000,000 is more than most people can fathom, so to illustrate what lifting that much "debt weight" off the shoulders of Canadians looks like, consider what $165,000,000 loonies amounts to:
If you or someone you know needs help dealing with debt or managing money better, please contact us. We'd be happy to help!
For additional highlights about our services and programs, view our most current Annual Report.
<< Go back to the Blog main page