What is Credit Counselling? Options to Get Help with Debt, Credit Repair & Rebuilding – More Than the Banks Can Offer
By Julie Jaggernath
Does
credit counselling seem like a bit of a mystery to you? Until you or someone you know needs help with their debts, you likely don't give credit and debt counselling much thought. As a former banker, I granted countless personal loans, debt consolidation loans, as well as mortgages. I also had to decline my fair share of loan applications because someone just didn't qualify. If I had known
what credit counselling is
in Canada when I worked for the bank, I could have referred clients to a non-profit agency for help when I had run out of ways to help them through the bank's services.
Warning Signs That Debt is a Problem
There are some typical
warning signs
that debt is becoming a problem, but most people wait, sometimes for several years, before asking for help. This might be because they're embarrassed about their situation, or they think they can manage it on their own. Others feel like it's got to get better, or that things will work out "somehow" as they always do. However, after spending over 20 years in the personal finance industry, I know for certain that the sooner you ask for help, the more options you typically have available.
Get Debt Relief When You First Start Feeling Stressed About Debt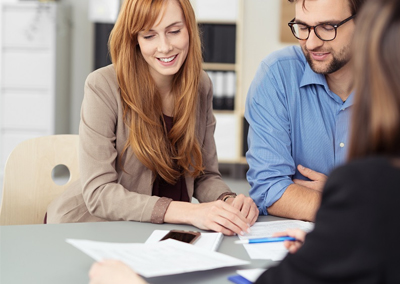 When you first start feeling stressed about your debts, that is the time you should start looking for ways to
get debt relief
. You might have assets you could sell, savings to negotiate a lump sum
debt settlement
, or you might still qualify for a
debt consolidation loan
at a more reasonable rate. It's a great time to see a Credit Counsellor because they can usually suggest more options than a banker can (like a
debt management program
), and they can explain the longer-term implications of any options you're considering.
Ask for Help Sooner Before You Have Less Options
When you wait until it gets worse before you ask for help with your debts, you have less options available; or worse, your creditors start calling the shots. When it gets to this point,
life is stressful
. Your work, home-life, business, personal and casual relationships, as well as your health are all affected.
A Financial Overview Can Help – Credit Rebuilding & Repair
But what if you could get an overview of your finances – a
financial assessment
, and deal with any debt before it might become troublesome? Maybe you could see how you're doing and get insight into what your money management habits will lead to in the years to come? Or what if you could find a way to
rebuild your credit rating
so that you qualify for your next loan or mortgage without any issues? By looking at your whole financial situation with a qualified, professional Credit Counsellor, you can set yourself up to make your dreams a reality.
Talk to a Credit Rebuilding Expert for Free
We offer free, confidential appointments and our Credit Counsellors are credit rebuilding experts. They will answer your questions and give you guidance, without obligation. They can help you identify specific steps you could take to improve your credit score, if that is one of your goals. If this is something you'd like to do, please contact us for more information.
We're Always Available to Answer Your Questions About Credit, Debt & Money Issues
If you have questions about your money, your budget, credit, debt or bills in general, we have answers and we are always happy to help.
Contact us
now by phone,
1-888-527-8999
, email, or
anonymous online chat
. You don't need to be
living pay cheque to pay cheque
to access our services. We've got lots of great info for everyone, give us a call and find out for yourself what we can do for you!
<< Back to the Blog main page